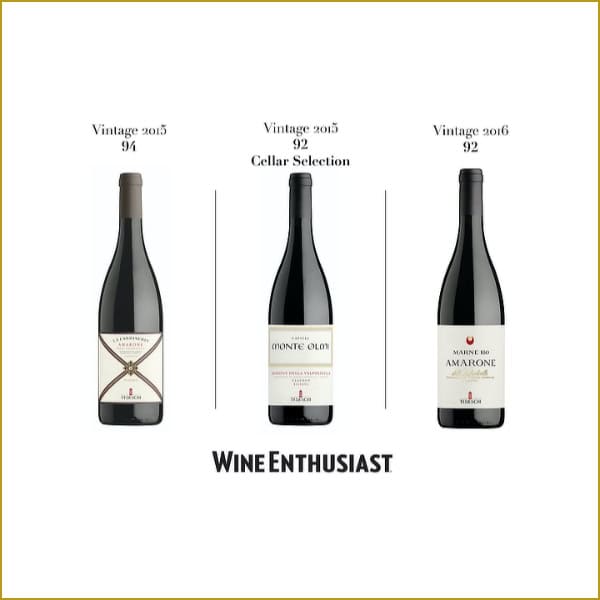 Wine Enthusiast consiglia l'Amarone per riscaldare l'inverno!
Secondo Kerin O'Keefe,  Italian Editor della prestigiosa rivista Wine Enthusiast, "With winter in full swing, nothing says "warm up by the fire" like a glass of Amarone. Americans are longtime fans of this full-bodied, velvety red wine, and the U.S. is the second largest destination market, accounting for 14% of total exports." (con l'inverno in pieno svolgimento, nulla è in grado di "riscaldarsi al fuoco" come un bicchiere di Amarone. Gli americani sono fan di lunga data di questo vino rosso corposo e vellutato, e gli Stati Uniti sono il secondo mercato di destinazione più grande, rappresentando il 14% delle esportazioni totali)".
Nel suo articolo "Italian Amarone to warm up your winter" menziona solo alcuni Amarone tra quelli assaggiati, tra cui il nostro Capitel Monte Olmi Amarone della Valpolicella DOCG Classico Riserva 2015, premiato con 92 punti e con la menzione Cellar Selection!
Ecco qui le note di degustazione: This single-vineyard bottling opens with multifaceted aromas of new leather, forest floor, fragrant purple flowers and spice. The bold, densely concentrated palate doles out baked plum, stewed prune, nutmeg and licorice framed in tightly knit, velvety tannins. You'll also notice the heat of evident alcohol on the close, but the fleshy fruit flavors don't let it dominate. Drink 2022–2030.
Ottimi punteggi anche ad altri due amarone:
– La Fabriseria Amarone della Valpolicella DOCG Classico Riserva 2015  94 punti
– Marne 180 Amarone della Valpolicella DOCG 92 punti 
Grazie Kerin O'Keefe! Grazie Wine Enthusiast!