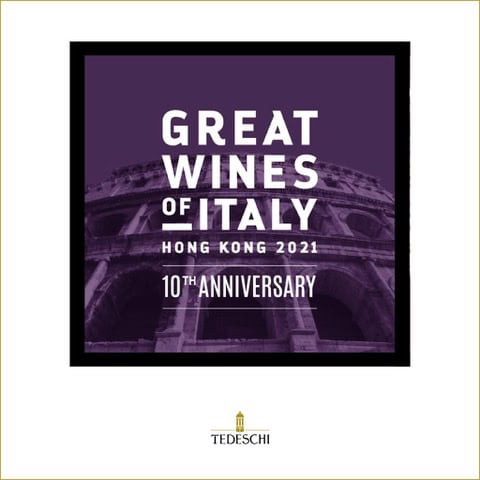 Tedeschi at Great Wines of Italy in Hong Kong
We proudly announce that we'll attend the upcoming Great Wines of Italy event (November 4 & 5, 2021 at the Four Seasons Hong Kong), organized by James Suckling.
The prestigious Journalist has recently reviewed some of our wines in his article
https://www.jamessuckling.com/wine-tasting-reports/amarone-soave-and-more-veneto-spreads-its-wine-wings/
The wines will be poured at the event are the following.
 – Masterclass
ANSARI AMARONE DELLA VALPOLICELLA DOCG 2016 95 points
CAPITEL SAN ROCCO VALPOLICELLA RIPASSO DOC SUPERIORE 2017 93 points
– Walk-around tasting
MARNE 180 AMARONE DELLA VALPOLICELLA DOCG 2017 93 points
LA FABRISERIA VALPOLICELLA DOC CLASSICO SUPERIORE 2017 94 points
We invite to sign up on James Suckling website to attend the event/ masterclass:
https://www.jamessuckling.com/event/great-wines-italy-hongkong-2021/
Below are the most recent reviews by James Suckling.
We are very proud to share with all of you!
TEDESCHI AMARONE DELLA VALPOLICELLA DOCG RISERVA MATERNIGO 2016
Score 96
Shows a lot of reserve on the nose with a tight package of baked red-cherry aromas and some bright mineral, almost wet-stone character. Mediterranean herbs, too. Full-bodied palate that's again under control, but there's a dense package of firm, fine tannin, dried fruit and spice waiting to burst out. Hard to believe this is 17% alcohol, it's so well constructed. This will be superb in a year or two and onwards, if you can resist the temptation now. Best from 2023. (July 25th)
TEDESCHI AMARONE DELLA VALPOLICELLA DOCG ANSARI 2017
Score 94
Incredibly dense aromas and flavors of fresh and dried black fruit, including currants, crushed berries, dates and passion fruit, together with notes of perfumed bark and walnuts. Full and fruity with a very fine-tannin framework to push the complex fruit flavors forward. Super long finish. Shows remarkable control, despite the 17.5% alcohol declaration on the bottle. So drinkable now, but should age very well, too. (July 22nd)
TEDESCHI AMARONE DELLA VALPOLICELLA DOCG MARNE 180 2017
Score 93
Full, dense and very fruity with lots of lightly licorice-tinged currants and raisins on the nose and palate. Some walnuts and balsamic-like herbs, too. Round and silky smooth on the palate with acidity that pushes the fruit forward and combines with the firm tannins to give a long finish. Delicious even now, but will improve with time. Best from 2023. (June 22nd)
TEDESCHI VALPOLICELLA DOC CLASSICO SUPERIORE LA FABRISERIA 2017
Score 94
I like the hazelnut note that greets your nose, then opens the door to a dense core of perfumed blackcurrants and sultanas that follow through to a medium to full palate with the right dose of acidity to keep it all fresh. Fine, well-placed tannins provide the perfect framework for the enticing fruit. Long finish. Already beautiful, but give this another year. Top Valpolicella. Best from 2023. (July 5th)
TEDESCHI VALPOLICELLA DOC SUPERIORE MATERNIGO 2017
Score 91
Sweet damson and plum aromas with a twist of bitter licorice and a light geranium-like floral note. Medium-to full-bodied with the same flavor profile, which might not be for everyone. Yet, it's persistent and balanced by good acidity and fine, lightly firm tannins. Drink now. (July 5th)
TEDESCHI VALPOLICELLA DOC SUPERIORE CAPITEL NICALO' 2019
Score 92
Very pleasant notes of lightly spiced aronia berries and a hint of sous bois, following through to a medium body with lightly firm, well-integrated tannins and a long, bright finish, leaving an aftertaste of cherry dark chocolate. Serious Vaplo and delicious. Drink now. (June 26th)
TEDESCHI VALPOLICELLA RIPASSO SUPERIORE CAPITEL SAN ROCCO 2018
Score 92
Tightly packed plum and berry on the nose, with some laurel leaves and a hint of black pepper. Medium-to full-bodied with lots of tension to the fruit and quite a tight tannin frame. It's all there, but this is like a closed fist. Needs time to open up and expand. Best from 2023. (June 21st)