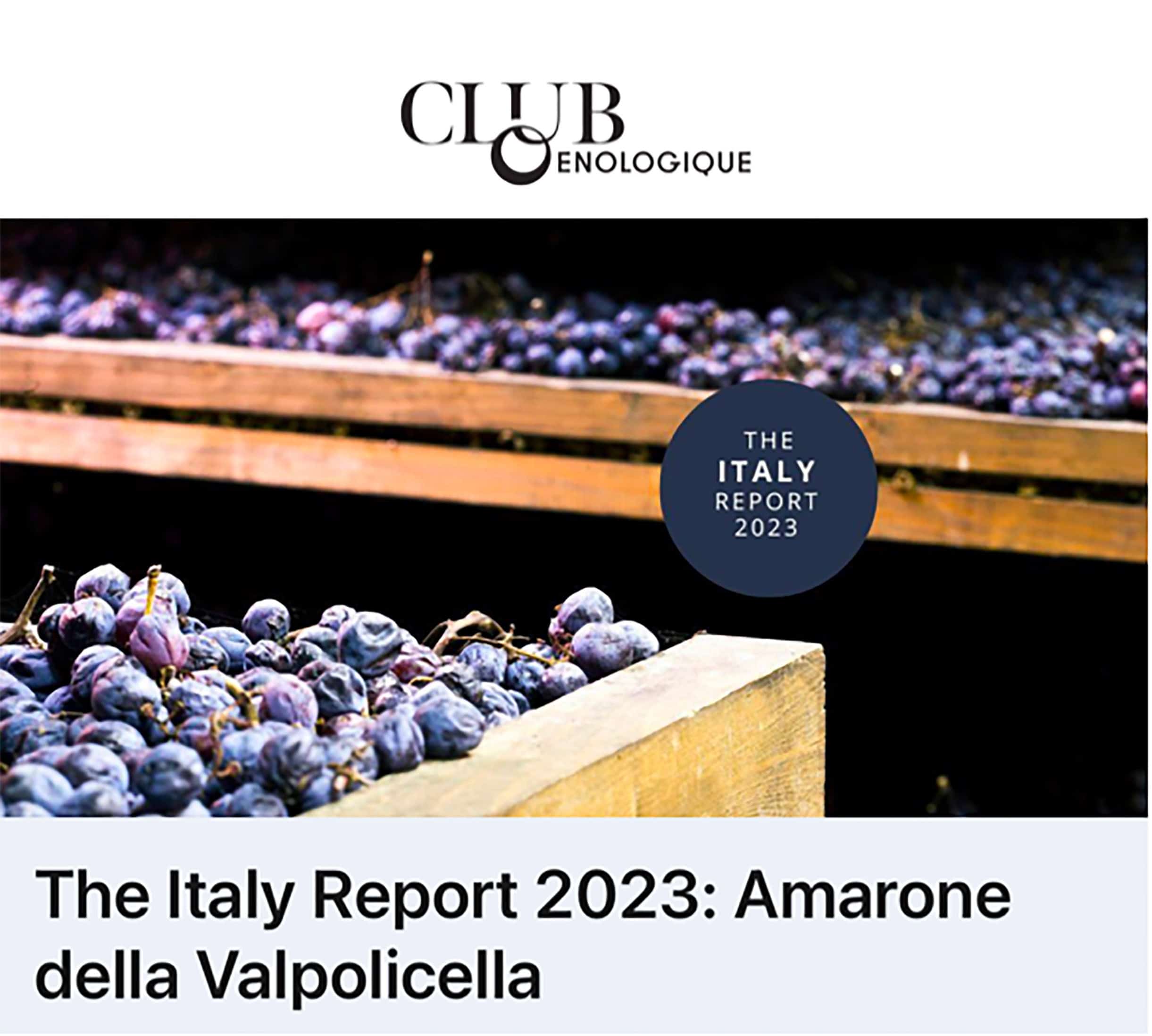 CAPITEL MONTE OLMI TOP WINE FOR SARAH HELLER MW
Tedeschi wines have received yet again very positive international feedback.
"The Amarone will always be a wine made by people who want to create maximum enjoyment."  With these words, Sarah Heller MW, tells the story of Valpolicella and its wines, as she ranks the top 100 Amarone in the international premium magazine Club Oenologique.
Our Amarone Capitel Monte Olmi 2017 was highly valued and ranked at the top with 97 points.  "A knot of animalic, leathery reduction gradually releases notes of iris, tobacco, humus, glossy red cherries and a delicate note of cedar sprig — a sophisticated blend of savoury and fresh. Meanwhile, flavours are intense on the entry, with a spicy cigar box and sandalwood complexity and fruit that combines aspects of strawberry and cherry. Luminous acidity, even in this early-ripening vintage, suffuses the beautifully integrated structure, honed over four years in Slavonian botti. Gracious tannins form an even, suede-like layer over the palate, closing it with delicate precision."
Thrilling scores even for the other Amarone wines in the Tedeschi range.
The Fabriseria Amarone della Valpolicella DOCG Classico Riserva 2016 obtained 95 points –  "Its ancient calcareous marls are high in limestone and sand, which produces an intense colour and structure, but also fragrance. This isn't immediately obvious. The nose starts dark and carnal, before more delicate aromatics of vetiver, pencil shavings and violets start to emerge over subtle elderberry and blackberry fruit. It is fuller on the palate as violets waft gorgeously over the top of its dark, craggy surface. Its blackberry fruit is underpinned by petrichor. Tannins are chewy and dense. Acidity is fresh enough to drive things along, although it never penetrates the shadows. Solid and concentrated, this shows subtle variations throughout and retains a rich floral perfume from start to finish."
The Marne 180 Amarone della Valpolicella DOCG 2019 was awarded 94 points – "Quite sheer but without slip, the entry is perfumed with sweet strawberry and cherry fruit, a pleasing edge of mandarin and base notes of mocha. Acidity is tart and bracing, while whisper-fine tannins are fully integrated, leaving a clean powderiness on the finish, without having much impact on the tautness and vigour.
Finally, 91 points were awarded to the Ansari Amarone della Valpolicella DOCG 2019 "The nose has a similar savoury bent to Tedeschi's other Amaroni but taken up a notch. Both animal and vegetal, it blends saddle leather with roasted artichokes as delicate raisin fruit tries to get past."
Thank you, Sarah, for having given space to our territory and our wines.